FOCUS ON – Anti-Carceral Psychoanalysis
Visioning an Anti-Carceral Psychoanalysis
Brianna Suslovic
Monday Sep 25, 6:00 PM – 7:30 PM, 6 sessions until Nov 6
Introduction to Abolition and Psychoanalysis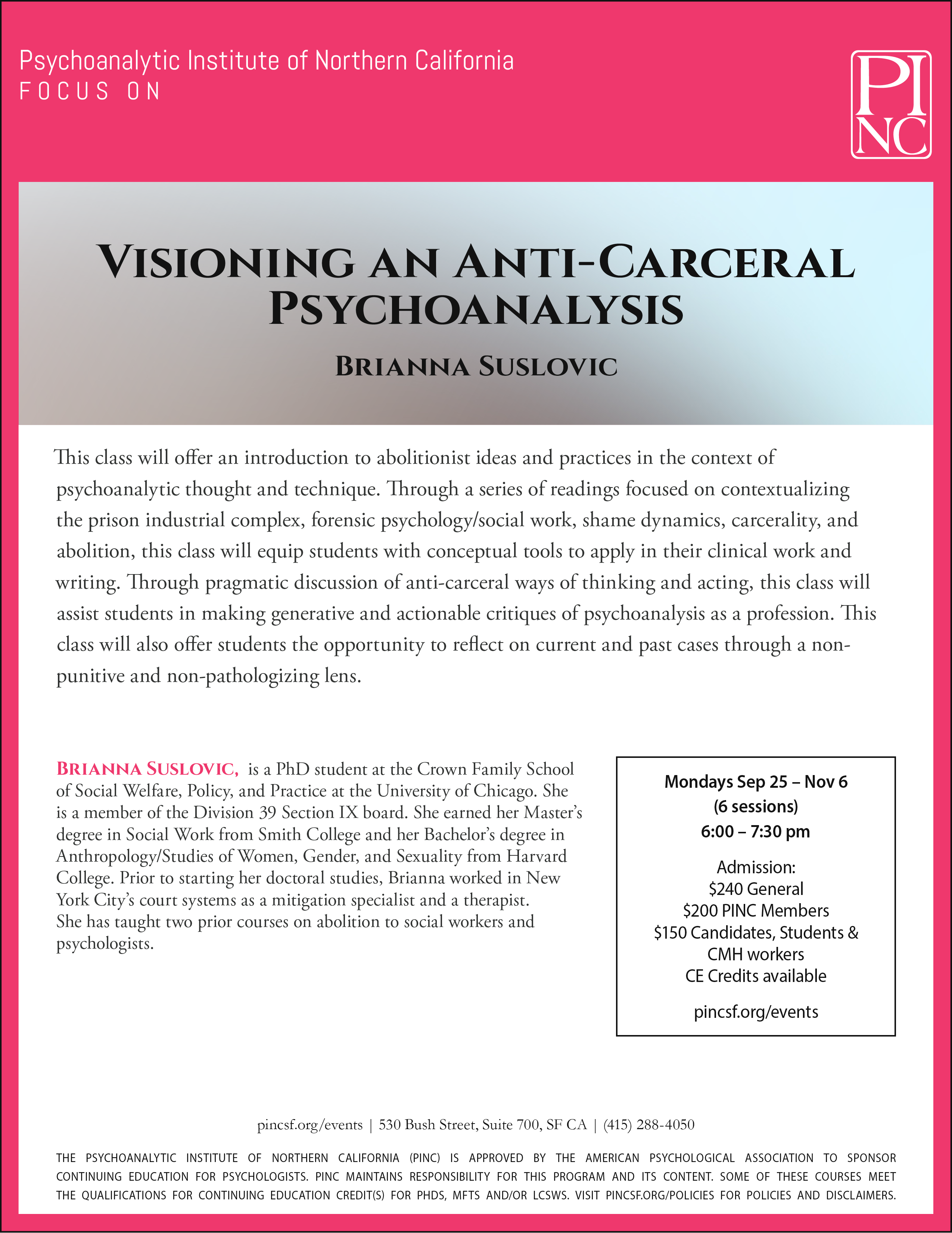 This class will offer an introduction to abolitionist ideas and practices in the context of psychoanalytic thought and technique. Through a series of readings focused on contextualizing the prison industrial complex, forensic psychology/social work, shame dynamics, carcerality, and abolition, this class will equip students with conceptual tools to apply in their clinical work and writing. Through pragmatic discussion of anti-carceral ways of thinking and acting, this class will assist students in making generative and actionable critiques of psychoanalysis as a profession. This class will also offer students the opportunity to reflect on current and past cases through a non-punitive and non-pathologizing lens.
---
CE Credits offered: 9
Course Objectives
After completing this course participants will be able to:
Students will be able to describe in detail the relationship between deinstitutionalization and mass incarceration.
Students will be able to identify, using psychoanalytic terms and concepts, two core problems with ordinary police interrogation.
Students will be able to name at least two ethical challenges that arise in forensic clinical work.
Students will be able to apply object relations theories to group dynamics in organizational and institutional settings.
Students will be able to describe, using psychoanalytic concepts, the relationship between shame and violence.
Students will be able to list all defense mechanisms identified by Melanie Klein.
Students will be able to define parallel process as a psychoanalytic concept.
Students will be able to describe at least one carceral characteristic of involuntary commitment.
Students will be able to describe how psychoanalytic ideas can inform violence prevention and response programs.
Students will be able to name four core tenets of abolition and transformative justice.
---
pincsf.org/events – 415-288-4050 — 530 Bush St, Suite 700, SF CA USA — pincsf@gmail.com
The Psychoanalytic Institute of Northern California (PINC) is approved by the American Psychological Association to sponsor continuing education for psychologists. PINC maintains responsibility for this program and its content. Visit pincsf.org/policies for policies and disclaimers.
note: no class on October 9 in observance of Indigenous Peoples' Day
When
September 25th, 2023 6:00 PM
Location
Online via Zoom (Pacific Time Zone)
CA
United States
Event Fee(s)
| | |
| --- | --- |
| Seminar | |
| General Admission | $ 240.00 |
| PINC Members | $ 200.00 |
| Students and Candidates | $ 150.00 |
| (9) CE Credits | $ 75.00 |