FOCUS ON – Opera on the Couch
Opera on the Couch
Steven H. Goldberg, MD, Amy Tyson, MD, Catherine Mallouh, MD, and Jeanne Harasemovitch, LCSW
Wednesday Oct 18, 7:30 PM – 9:00 PM, 4 sessions until Nov 8
Four-week Focus On course based on Opera on the Couch by Goldberg and Rather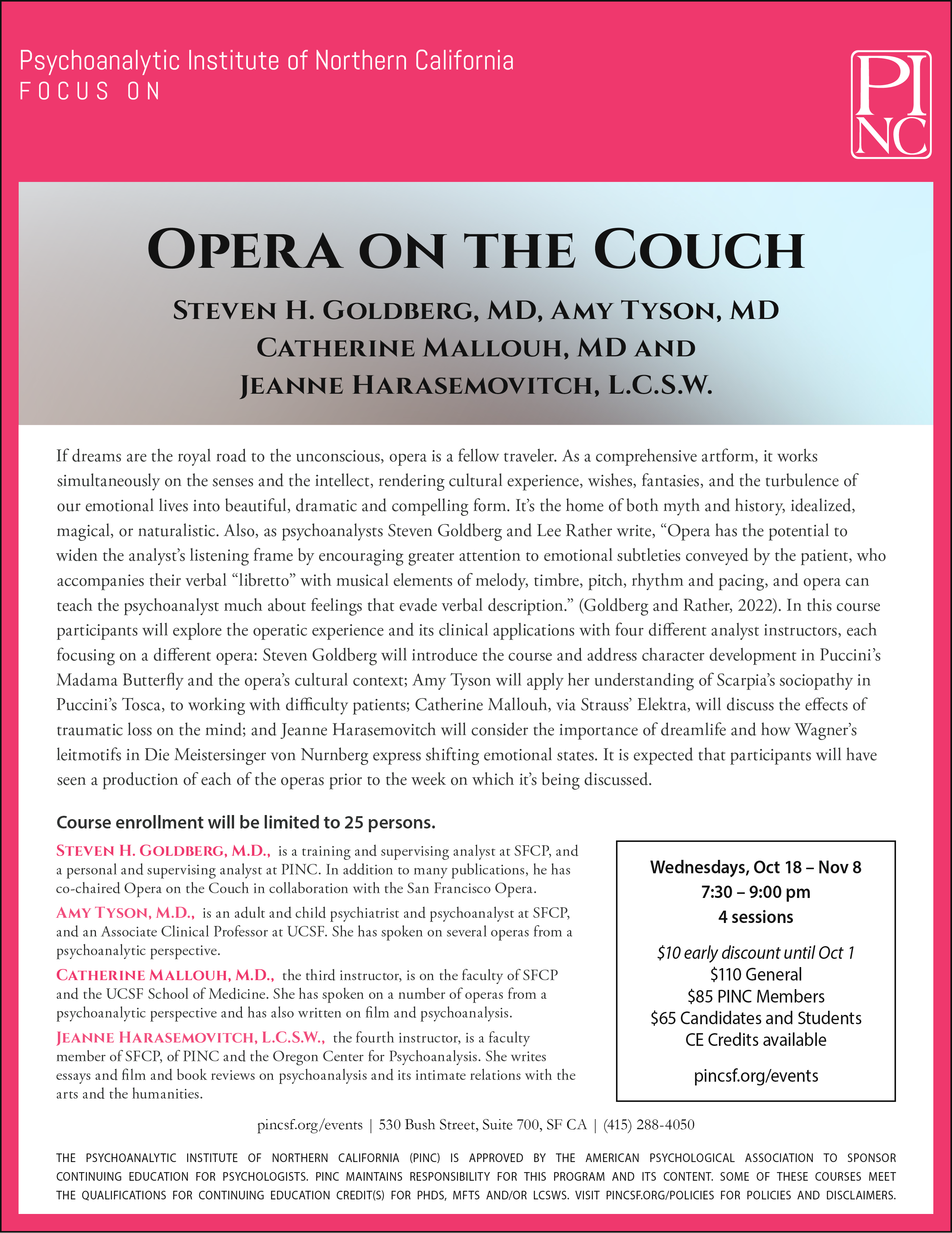 If dreams are the royal road to the unconscious, opera is a fellow traveler. As a comprehensive artform, it works simultaneously on the senses and the intellect, rendering cultural experience, wishes, fantasies, and the turbulence of our emotional lives into beautiful, dramatic and compelling form. It's the home of both myth and history, idealized, magical, or naturalistic. Also, as psychoanalysts Steven Goldberg and Lee Rather write, "Opera has the potential to widen the analyst's listening frame by encouraging greater attention to emotional subtleties conveyed by the patient, who accompanies their verbal "libretto" with musical elements of melody, timbre, pitch, rhythm and pacing, and opera can teach the psychoanalyst much about feelings that evade verbal description." (Goldberg and Rather, 2022). In this course participants will explore the operatic experience and its clinical applications with four different analyst instructors, each focusing on a different opera: Steven Goldberg will introduce the course and address character development in Puccini's Madama Butterfly and the opera's cultural context; Amy Tyson will apply her understanding of Scarpia's sociopathy in Puccini's Tosca, to working with difficulty patients; Catherine Mallouh, via Strauss' Elektra, will discuss the effects of traumatic loss on the mind; and Jeanne Harasemovitch will consider the importance of dreamlife and how Wagner's leitmotifs in Die Meistersinger von Nurnberg express shifting emotional states. It is expected that participants will have seen a production of each of the operas prior to the week on which it's being discussed.
---
CE Credits offered: 6
Course Objectives
After completing this course participants will be able to:
recognize changes in musical quality that convey the development of character in the opera "Madame Butterfly"
diagnose and recognize in themselves limitations of understanding complex motivations in people of other cultures and historical periods
discuss opera as a rich means of understanding the complexity, suffering, and beauty of human subjectivity, in order to gain empathy for working with very difficult patients
describe sociopathy via an analysis of the character of Scarpia in the opera "Tosca"
describe the effects of traumatic loss on the mind and how it distorts the process of mourning
discuss how grievance not only forecloses the experience of mourning and accompanying pain, but it can also prevent psychic fragmentation
analyze the centrality of dreamlife in Wagner's "Die Meistersinger von Nurnberg" and how it presages Freud and other contemporary analysts who regard dreaming as an instigator of psychic health
discuss how Wagner's "leitmotifs" express shifting psychological states and unveil unconscious representations and forces
---
pincsf.org/events – 415-288-4050 — 530 Bush St, Suite 700, SF CA USA — pincsf@gmail.com
The Psychoanalytic Institute of Northern California (PINC) is approved by the American Psychological Association to sponsor continuing education for psychologists. PINC maintains responsibility for this program and its content. Visit pincsf.org/policies for policies and disclaimers.
When
October 18th, 2023 7:30 PM
Location
Online via Zoom (Pacific Time Zone)
CA
United States
Event Fee(s)
| | |
| --- | --- |
| Seminar | |
| General Admission | $ 110.00 |
| PINC Members | $ 85.00 |
| Students and Candidates | $ 65.00 |
| (6) CE Credits | $ 60.00 |
| Discount before Oct 1 | $ -10.00 |