FOCUS ON – Siblings
Win or Lose, or Can We Each Have a Place? Siblings in the Psyche and in Psychoanalysis
Sue Haas-Lyon
Monday Oct 23, 7:00 PM – 8:30 PM, 4 sessions until Nov 13
Zoom course investigating psychoanalytic perspective on siblings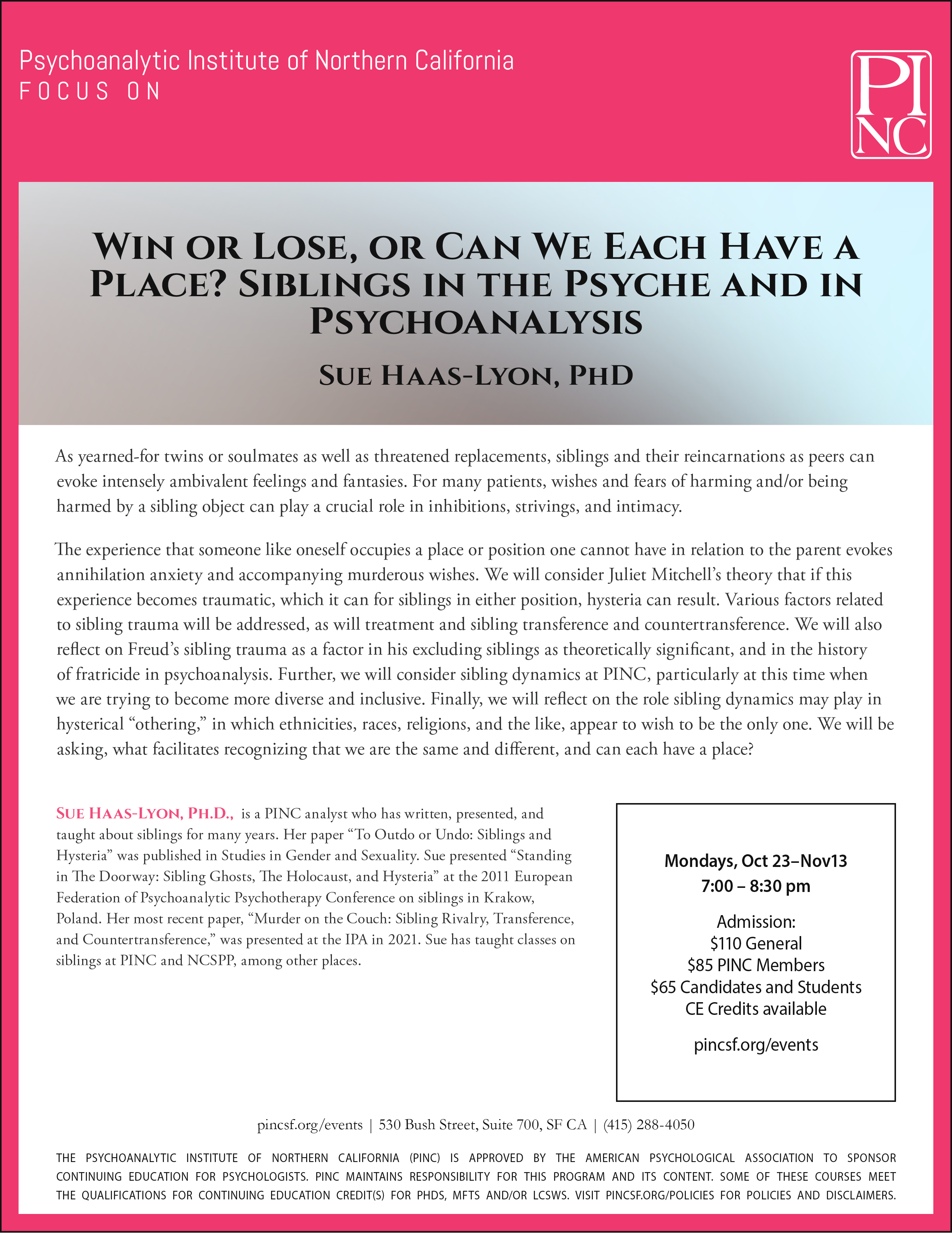 As yearned-for twins or soulmates as well as threatened replacements, siblings and their reincarnations as peers can evoke intensely ambivalent feelings and fantasies. For many patients, wishes and fears of harming and/or being harmed by a sibling object can play a crucial role in inhibitions, strivings, and intimacy.
The experience that someone like oneself occupies a place or position one cannot have in relation to the parent evokes annihilation anxiety and accompanying murderous wishes. We will consider Juliet Mitchell's theory that if this experience becomes traumatic, which it can for siblings in either position, hysteria can result. Various factors related to sibling trauma will be addressed, as will treatment and sibling transference and countertransference. We will also reflect on Freud's sibling trauma as a factor in his excluding siblings as theoretically significant, and in the history of fratricide in psychoanalysis. Further, we will consider sibling dynamics at PINC, particularly at this time when we are trying to become more diverse and inclusive. Finally, we will reflect on the role sibling dynamics may play in hysterical "othering," in which ethnicities, races, religions, and the like, appear to wish to be the only one. We will be asking, what facilitates recognizing that we are the same and different, and can each have a place?
---
CE Credits offered: 6
Course Objectives
After completing this course participants will be able to:
Explain why sibling relationships can be highly influential in development, psychopathology, and treatment.
Describe Juliet Mitchell's theory that trauma related to siblings can result in hysteria, and that hysteria is related to the lateral as well as the vertical relational dimension.
Identify factors that are often related to sibling trauma, such as sibling disability or death, favoritism, and intergenerational transmission of sibling trauma.
Describe Oedipal sibling triangles, as defined by Sharpe and Rosenblatt, and their effects on sibling relationships and object relating.
Identify and work with sibling transference and countertransference in treatment.
Explain how annihilation anxiety related to the threat of being displaced by a sibling may be evoked in peer and group relationships, and in hysterical "othering."
---
pincsf.org/events – 415-288-4050 — 530 Bush St, Suite 700, SF CA USA — pincsf@gmail.com
The Psychoanalytic Institute of Northern California (PINC) is approved by the American Psychological Association to sponsor continuing education for psychologists. PINC maintains responsibility for this program and its content. Visit pincsf.org/policies for policies and disclaimers.
When
October 23rd, 2023 7:30 PM
Location
Online via Zoom (Pacific Time Zone)
CA
United States
Event Fee(s)
| | |
| --- | --- |
| Seminar | |
| General Admission | $ 110.00 |
| PINC Members | $ 85.00 |
| Students and Candidates | $ 65.00 |
| (6) CE Credits | $ 60.00 |